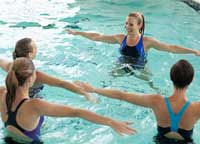 Acquagym, training in water
Small and large swimming pools (with floating aids for who doesn't know how to swim)

55 minutes morning, lunch break and evening lessons.
---
Acquagym benefits: an effective exercise, easy, pleasant and without any risk of joint injury.
Soft and pleasant workout, acquagym is suitable for all women (inactive or sport passionate, young or mature), but is beneficial also for men. This risk-free and amusing training really shapes and firms the body.
Acquagym main benefits are:
A nicely defined musculature
Constant abdominal training in water
Workout of those usually untrained muscles that tend to become flabby
A very effective light but constant strain: the body will tone up without suffering.
Better muscle oxygenation, thanks to a higher blood pressure
Relaxing effect without muscle soreness. Water massage on adipose tissues (helping to burn and eliminate fat)
Thanks to a lighter body weight in water, consequent reduced joints and back pressure, as well as injuries
Absolutely no danger for this kind of workout
It is not necessary to know how to swim
Some advice to start:
Introduce yourself to the instructor as new pupil, clarifying if you are a beginner
In the swimming pool stand close to the instructor and during the first times, if you don't know how to swim, stay close to the pool edge.
During the first lessons probably you won't be able to execute all workouts, but this is normal. Don't get discouraged.
Only after a few lessons you will find the right water resistances, therefore at the beginning, do small movements and increase them gradually.
Try to push the water with your full palm, trying to reach the maximum resistance. If the hand slips touching the water, the body strain would be very little.
If during the first lessons you are out of breath and you feel a fast heartbeat, slow down your movements, making them smaller. Listen to your body and follow its instructions. At the end of the lesson you can talk about it with the instructor.
Vice versa if you feel you haven't worked out enough, focus on the speed and broadness of movements, monitoring the hand's push against the water.