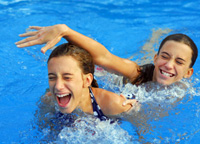 Teenagers Class (above 6yrs old)
Afternoon and evening schedules in small and big swimming pool- 50 minutes group lessons
Max 7 children
From September 2019
---
1st Wave -
First approach with water. Prone and supine floating. Prone and supine slipping in water. Flutter kick and stroke both backstroke and freestyle, even with swimming board.
---
1st Wave +
Children who completed with success the 1st wave. Teaching freestyle side breathing. Teaching how to coordinate side breathing with flutter kick and stroke, even using swimming boards. Backstroke. Preparation to dog paddle on the big swimming pool. Vertical dives on the big swimming pool..
---
2nd wave * Beginners*
Children who completed with success the small swimming pool. Improvement of the swimming techniques learnt so far, also with swimming board help. Children will practice on the side lane, so that they will have the support of the wall, also for the more afraid children. Improvement of the several floating techniques in high water. Vertical and head diving.
---
2nd wave
Freestyle and backstroke technique and coordination.
---
3rd wave
Improvement of breaststroke kick and stroke and break stroke breathing training. Coordination between flutter kick and stroke. Improvement of freestyle and backstroke swimming techniques. Diving.
---
4th wave
Dolphin kick and stroke technique. Improving and enhancing the breaststroke technique. With the freestyle and backstroke technique will proceed to an aerobic workout based on resistance, and anaerobic one based on speed.
---
5th wawe
In this course, keep on improving the several swimming styles techniques. Use of the swimming board to strengthen legs and arms muscles and keep on strengthening the aerobic and anaerobic abilities. Start to teach the turns for each swimming style. Monitoring and measuring the times achieved in the different swimming styles that will be compared with the average data regarding kids' age and sex, highlighting the swimmers who achieved interesting times to continue the pre-competitive and eventually competitive swimming activity.