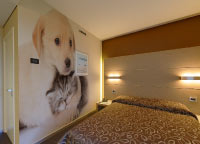 Porta il tuo amico a quattro zampe in vacanza con te!
L'Hotel Federico II mette a disposizione, a chi ne farà richiesta durante la prenotazione e previa disponibilità, un kit studiato appositamente per chi desidera portare con se il proprio amico a quattro zampe, e che comprende:
Camera con accesso diretto al piazzale del giardino per comode passeggiate
Soffice tappetino
Ciotole per il cibo e per l'acqua
Salviette Detergenti per Cani e Gatti
Speciale talloncino "do not disturb" per quando il nostro amico rimane in camera
Informazioni sui negozi di animali presenti in zona per ogni necessità: Cibo, Toilette, Articoli, etc.
At the hotel you can enjoy:
Spa wellness
Indoor semi-Olympic swimming pool
Kids' swimming pool
Large outdoor swimming pool
Gym
Kids room
La Rotonda restaurant
American bar
Concierge
8 meeting rooms
Shuttle bus
Heliport
Billiard room

Is it the room
suitable for you?
Go to the
Online Booking
!