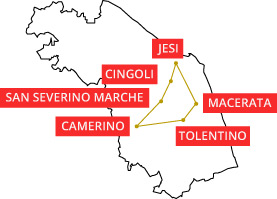 Another interesting tour among the wavy hills of the Marche region could be:
Cingoli
"the Marche region terrace", a town that mixes to the beautiful landscaped a rich and well preserved historic town centre. Let's go to
S. Severino
, town of roman origins, rich in monuments and hometown of prominent figures: from the anatomist Bartolomeo Eustachio, to the painters Lorenzo and Jacopo Salimbeni, Lorenzo D'Alessandro, the sculptors Biagiali and Rosa, the architect Oleandri. You will arrive in
Camerino
, città risalente al periodo neolitico ed antica Università delle Marche, scrigno di tesori medioevali e rinascimentali.
Tolentino
, town dating back to the Neolithic period and ancient university of the Marche region, trunk of treasures of the mediaeval and Renaissance periods. Tolentino medieval town, well known for the frescoes of the so called Cappelone Della Basilica (xiv century). The fresco is a unique cycle that is still object of studies and comments from experts, offering an incomparable vision. Then you arrive in
Macerata
. The town offers a compact historical town centre with buildings, churches and squares well merged together. University town since 1290, rich in art works and with the "Sferisterio" most important town monument, seat of opera season in summer.