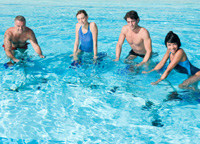 Federico II Hotel's swimming centre is organizing new hydro bike classes.
The benefits:
water workouts allow to make a physical strain maintaining low heartbeats: the cardio-frequency reduces up to 10% compared to normal workouts;
thanks to water, one takes advantage of the hydrodynamic principle, without straining and loading on the joints and back;
higher calories burn (1hour bike outside water burns around 700Kcal and in water about 1350Kcal), loose weight, given also by the lack of body heat inside the water;
reduction of gluteus and tights adipose tissue, toning of the large muscle group ( especially tights and gluteus);
improvement and enhancement of aerobic resistance ( which means loosing weight and improvement of the cardiac and respiratory systems);
Water massage and the consequent benefits of water contact
valid rehabilitating tool.
For timetables, contact the secretariat
* The course will be activated on reaching the minimum number of participants established.
For all info about fees and proper clothing, please contact the reception desk at:
+39 0731 211061
.
Booking necessary
.